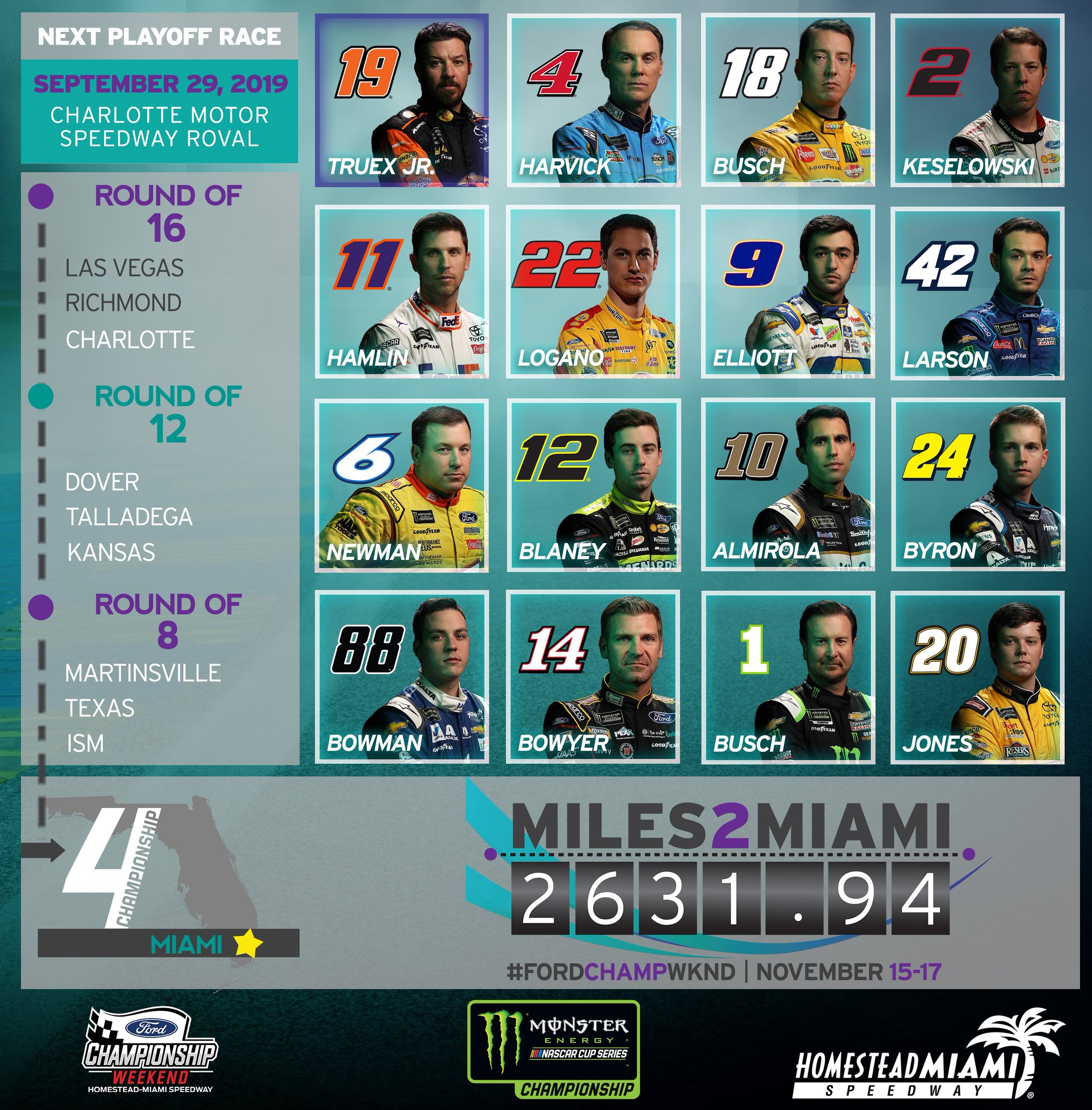 Saturday night's race under the lights at Richmond Raceway was another event to remember for Martin Truex Jr. After capturing his first playoff win of 2019 at Las Vegas Motor Speedway the weekend prior, Truex went on to sweep the season races at Richmond. It became Truex's sixth win of the 2019 campaign.
Leading 109 laps, Truex was ahead of the field with less than 100 laps to go when he was spun by Ricky Stenhouse Jr. His teammate Kyle Busch went on to take back the lead but with 24 laps to go Truex drove back to the front and passed his teammate for the win.
"Man, I don't know what to say, I really don't," Truex said. "I'm speechless, just an unbelievable job by all my guys … had a heck of a race with Kyle [Busch] and Denny [Hamlin] all night long really,
and we just kept plugging away at it, as we always do. We just keep digging and we never quit."
All four Joe Gibbs Racing drivers would go on and take the top-four positions of the Federated Auto Parts 400. Unfortunately for Erik Jones and the No. 20 team, their encouraging top-five finish didn't last long.
Shortly after the conclusion of the race, NASCAR announced the No. 20 car failed post-race inspection due to the car's rear-wheel alignment. The penalty resulted in Jones losing his fourth-place finish and only earning a point.
"We've set the standard early in the year in what we expect, and teams have done a good job reacting to that," Monster Energy NASCAR Cup Series director Jay Fabian said. "I think obviously as the pressure mounts and the season goes on, it doesn't surprise me to see them pushing a little further and trying to get a little more out of their stuff, and like I say, sometimes it just crosses that line a little bit, and that's all you need to fail."
Other playoff drivers that had strong runs were Brad Keselowski, Ryan Newman, Kyle Larson, and Clint Bowyer, who all placed a top-10 finish. Notable drivers that went into Richmond on the bubble of the playoff cut-off like Kurt Busch, Alex Bowman, and Aric Almirola placed outside of the top-15.
Bowman stated post-race that his goal heading into the Charlotte Motor Speedway ROVAL is to accumulate as many stage points as they can.
The Monster Energy Series heads to Charlotte Motor Speedway next Sunday for the ROVAL race. Race coverage starts at 2:30 pm EST on NBC. Coverage can also be heard on PRN and SiriusXM Channel 90.
Here are the standings going into Charlotte: